CHRISTMAS & NEW YEAR IN CROATIA
Zagreb : Winter in Zagreb is a magical time to visit the most beautiful Christmas market. If you are thinking of the lovely sound of jingling bells and Christmas festivities – dive into Zagreb the best destinations for perfect Christmas holidays.
Zagreb has won the Best Christmas Markets in Europe for two successive years – 2016 & 2017. This city transforms to sheer magic during the month of Christmas with something from toddlers, adults to senior citizens.
Come and see for yourself why increasing numbers of tourists throng this city during the festive season, Zagreb offers a special atmosphere which simply must be experienced. There is fun and celebration everywhere you go. The city streets and squares are all lit up and force you to be part of the ongoing singing, dancing, and other kinds of entertainment with family and friends.
Zadar :- Boasting a historic old town of Roman ruins, medieval churches, cosmopolitan cafes and quality museums set on a small peninsula, Zadar is an intriguing city. It's not too crowded, it's not overrun with tourists and its two unique attractions – the sound-and-light spectacle of the Sea Organ and the Sun Salutation – need to be seen and heard to be believed.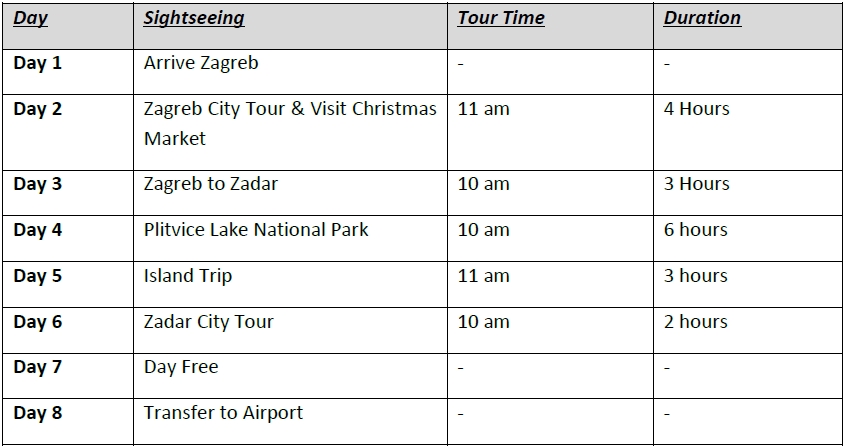 Double Room Occupant : ₦ 331,348
Single Room Occupant : ₦ 443,725
TERMS
ACCOMMODATION:
􀁸 2 Nights' accommodation in Zagreb
􀁸 5 Nights' accommodation in Zadar
MEALS:
􀁸 Daily breakfast except on day 01
TRANSFER:
􀁸 Private Transfer from Zagreb Airport to Zagreb Hotel
􀁸 Private Transfer from Zagreb to Zadar
􀁸 Private Transfer from Zadar Hotel to Zagreb Airport
SIGHTSEEING:
􀁸 Private Zagreb City Tour& Visit Christmas market
􀁸 Private Plitvice Lake Tour From Zadar
􀁸 Private Uglian island Tour
􀁸 Private Zadar Sightseeing Tour
SERVICES EXCLUDED:
􀁸 City taxes for hotel to be paid to hotel at the time of checkout
􀁸 International, Internal flights & departure taxes
􀁸 Personal expenses, tips and gratuities
􀁸 Travel insurance
􀁸 Beverage
􀁸 Other services not mentioned above
􀁸 Applicable taxes