Visa application can be tedious especially for first-time travelers going for visiting, studies, business or residency in a new country. The best bet you have over visa stress is to get an experienced visa consultant who would smoothen the process and take the burden off you to focus on more pressing matters in preparation for the travel.  Our experience in the travel industry has given us the right type of information you would need for your UK visa applications. This visa can be applied for at the nearest UK Embassy close to you or through an online provider where the correct UK visa information for Nigerians are duly stated.
Vecta travels the best travel agency in Nigeria gives:
UK Visa Information for Nigerians
There are different types of visas given at the UK embassy depending on what you apply for and your qualification based on the information you filled in your application form:
Short-term visa – This is common amongst people going as a tourist to the UK or who are taking short courses for three months or there about. This visa only lasts for a period of six months before its expiry.
Student Visa – It is mostly issued to students visiting the UK on education grounds and would be staying for a number of years. A student visa can be between two to four years depending on the course of study. Students who are between the age four and sixteen years studying in the UK for some years would be issued a Tier 4 (child) visa while students from sixteen years upwards get a tier 4 (general) visa.
Business Visa – This type of visas are issued to business owners looking to expand their reach to the UK market or entrepreneurs looking at the possibility of starting a new business in the UK. Which starts from 6 months depending on the reasons.
Transit Visa – This is for non-UK citizens who would be taking a connecting flight through the UK and have hours to spare for sightseeing and exploring the city.
Diplomatic visas – These Visas are issued to government officials on formal assignments in the UK or passing through the country which is usually free of charge.
Requirements
As a Nigerian, the following documents need to be available before application for UK visa begins to make sure there would not be delays or hiccups.
Properly filled UK visa application form
A valid Nigerian passport (ECOWAS)
A recent passport-sized photography with a white background taken within six months of visa application and a dimension of 45mm by 35mm.
Photocopy of your passport data page i.e the front page
Original birth certificate of children traveling with parents
Original marriage certificate of people traveling with their spouse
Bank statement dating three months to application
Letter of invitation if applicable
A copy of your utility bill
Evidence of tax payment either from your employer or business
Letter of invitation if applicable
Letter of introduction
Visa Fee
Supporting document if applicable
Evidence of hotel reservation and flight booking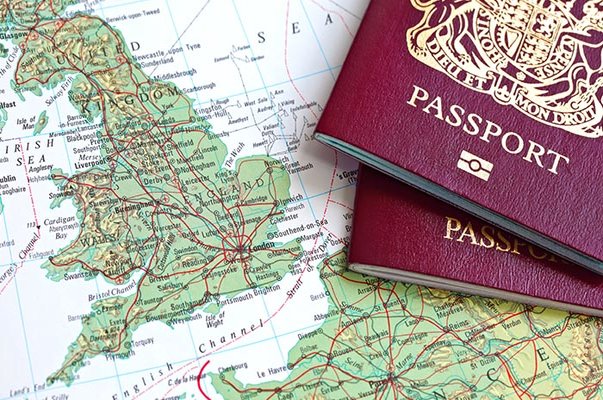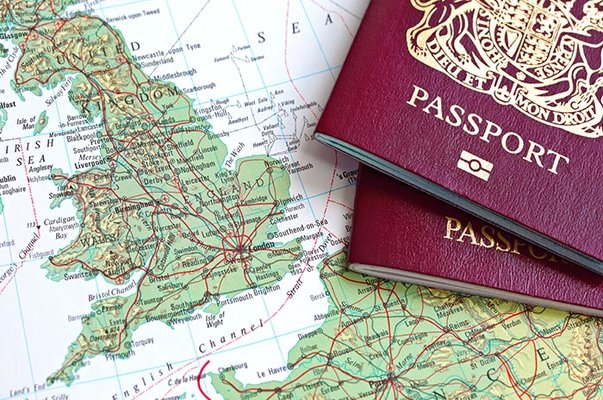 How to Apply for UK Visa
To submit your filled visa application form via VFS global which is in partnership with the UK government for a quick and stress-free visa appointment procedure.
Talk to your visa consultant on the type of visa you would be needing and have them do a profiling session for the various documents needed after which they would book an appointment for you with VFS
After the online form filling, a GWF number will be issued which you have to save in a safe place because it would be asked for during your application process. A mail will be sent after submission of the online form confirming appointment date, list of documents to bring and the address of the interview centre.
Then on to filling your required details on VFS global for record purpose and later tracking of the application process.
When the visa fee is paid at the centre your biometrics and photo would be taken after which you wait for the interview day. Ensure you get there early with a printed copy of the online application form, a means of identification with a clear picture and your Nigerian passport and other required documents.
UK Visa Information for Nigerians
Application Submission
For submission of Nigerian passport and other documents required for processing at the UK embassy it is usually collected from Monday to Friday, 8:30 am to 4:30 pm daily with exceptions of public holidays.
Visa Processing
Recently, visa processing has taken a minimum of five working days from the day of document submission and interview. Meanwhile, there has been the case of some visas taking a longer time to come through due to previous rejections or criminal history.
Collection
To receive successful visas, it is usually available at the collection centres from Monday to Friday 10:00 am to 4:00 pm with exceptions of public holidays. To get your visa you should go with a copy of your passport data page, application checklist and a means of identification with your passport on it. Beware that only the visa applicant can collect their documents with exceptions to parents collecting on behalf of their child or government official.
Address of Visa processing Centres in Nigeria
UK Visa Application Centre Ikeja, Lagos
TLS Contact Processing Services Ltd.
Etiebets Place, 21 Mobolaji Bank Anthony Way
Ikeja, Lagos.
UK Government for Visas & Immigration British High Commission, Lagos
11 Walter Carrington Crescent, Victoria Island, Lagos
UK Visa Application Center Addresses
UK Visa Application Centre in Victoria Island, Lagos
1st Floor, Churchgate Tower 2
Plot PC31 Churchgate Street, Victoria Island, Lagos
UK Visa Application Centre, Abuja.
TLS Contact Processing Services Ltd.
3rd floor El Yakub Plaza, Plot 1129
Zakariya Maimalari street, opp war college
Central Business Area, Abuja
UK Government for Visas & Immigration British Deputy High Commission, Abuja
Dangote House, Aguyi Ironsi Street Maitama District, Abuja
Others are reading…