Making plans for the coming holidays can be quite challenging especially when you have a budget to work with. The Christmas and New Year holidays are popular among Muslims and Christians alike as this is the time extended families come together. During this period they celebrate the reunion of all nuclear family units, tell moonlight stories. The younger ones are given the opportunity to learn their culture, meet their grands and majorly create a bond between all. Recently people are considering affordable Christmas Holiday Destinations 2018 to visit.
As traditions are changing and people are looking for other exciting ways to spend this holiday period. Some have been coming up with the idea of travelling to popular destinations within Africa or the Western world. Destinations like Dubai, London and Johannesburg have seen so many tourists than they chose to count. Others believe during this period most travel packages and flight tickets get to be inflated.
This is where Vecta travels the Best Travel Agency in Nigeria comes in, providing our esteemed customers with the best possible prices on the block. From Accra downstairs here to Dubai, Croatia, Johannesburg, London, we got you covered. Find out Cheap destinations this Christmas to visit with the family and friends.
Affordable Christmas Holiday Destinations 2018
DUBAI
If you chose Dubai for your Christmas and New Year celebrations then you are in luck. The flight fares and hotels are usually cheap during this period because all providers are in competition. The strategy they use is to reduce their fares to increase the number of tourists they get.
The weather here is usually mild cold which makes it a great destination for Nigerians to visit and enjoy the sights.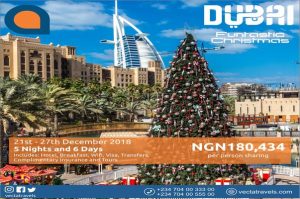 To visit Dubai budget from #180,434 per person sharing to get the maximum comfort while saving some. Here basic necessities are covered like:
Tourist Visa
Hotel for five nights
Breakfast
Airport transfer
Travel Insurance
Tours
Fun and exciting places to visit when in Dubai include:
Dubai mall, Dolphinarium, Burj Khalifa, Skydiving, Palm
Affordable Christmas Holiday Destinations 2018
JOHANNESBURG, SOUTH AFRICA
Due to the well-developed tourism sector of South Africa tourists have made this destination a choice one for most holidays. To find cheap flights and hotels during the Christmas holidays is quite easy because of the access to useful information.
Considering the weather which is usually warm during December and New Year you have to take the appropriate clothing to facilitate this.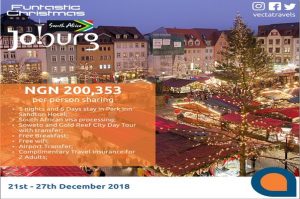 To visit Johannesburg general cost starts from #200,343 per person. Here are basic necessities which are being covered:
Visa
Hotel for five nights
Breakfast
Airport transfer
Travel Insurance
Tours
To see more places around you try out the Gold Reef city for fun rides, visiting the farm, Wits Origins centre, Johannesburg Botanical gardens Waterfalls, Orlando Towers etc.
Affordable Christmas Holiday Destinations 2018
ACCRA, GHANA
Considering its proximity to Nigeria, the inexpensive flight tickets and very comfortable and affordable accommodations make Accra an evergreen destination for Nigerians. During Christmas most airlines would let out some promo tickets for passengers to buy to encourage them to travel somewhere for the holidays.  Completing this price reduction is the cheap accommodation available from studio size rooms, to apartments, hotels, hostels, and Airbnb.
The weather during the time of travel is usually half sunny with the rain coming at intervals. Make sure you plan your tours for times when the weather is favourable to avoid being drenched or catching a cold. To visit Accra with us the cost starts from 97,254.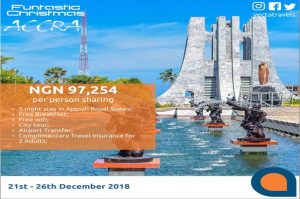 Here are basic necessities which are being covered:
Visa
Hotel for five nights
Breakfast
Airport transfer
Travel Insurance
Tours
For things to see in Accra go down to Kwame Nkrumah park, Black star square, National Museum, Jamestown, Mokola market, Arts and craft centre, Labadi beach, National Theatre, Accra mall etc.
Where are you visiting come Christmas? Have you been to any of the destinations we mentioned? What was your experience?