A snack is a small portion of edibles which is usually eaten in between meals which can comprise of fruits, nuts, wholemeal biscuits, cereals, confectioneries etc. Choice of snacks depends on the age range, preference, activity level and health-related conditions which have to be put into consideration when picking the right snack to munch on. It is quite common with mothers of today to ascribe much importance on commercially processed snacks to satisfy their children's cravings in between meals instead of Nigerian snack food that are rich in the right nutrients. They are seen giving out Bobo, Capri Sonne, wafers, sweets, and bubble gums amongst others to this kids not considering the health issues associated with sweet things. They go as far as saying they would outgrow it since they are children.
As every country have their unique characteristics and natural resources, so do they have unique cuisines peculiar to their people. There are lots of Nigerian snack food which are produced in their own specific way that has gone through the test of time and essence. These indigenous snacks are always advised to be eaten by food nutritionists since they are rich in vitamins and minerals which are required by the body for growth and vitality.
Vecta travels the best travel agency in Nigeria discuss:
Nigerian Snack Food
Roasted Maize
Corn as its commonly called in Nigeria is a household staple usually eaten in several different ways. Roasted corn is usually found on major street corners in Nigeria with the vendor constantly blowing the charcoal flames to hasten the roasting process. When roasted to perfection, the once golden yellow corn turns brownish gold with a distinctive aroma in the air. This comb of delish can be eaten with freshly cut coconut or African pear.

Kuli Kuli
This Nigerian snack food is also known as grounded bean cake to English speakers because of the process it goes through when it's being made. Groundnuts also known as peanuts goes through a drying phase after which they are roasted with sand in a flat pan then unto grinding, spicing with pepper and salt which is finally deep fried in hot oil. After frying the Kuli Kuli it is left in a basket to cool down after which it is ready for eating. Kuli Kuli can be eaten alone or taken with Garri (soaked and fried cassava), with pap (grounded corn) etc.

Akara
This is also known as bean cake which is a popular Nigerian snack food. It is made with either beans flour or fresh beans peeled and ground with enough pepper, onions and other spices which is then deep fried in hot oil. Akara can be eaten on the go or served alongside Garri, pap, bread, custard, other fried staples like Yam, plantain or potatoes with a little stew added. It is a common street food which is seen on crowded street corners and junctions for passersby to see and patronize the vendors.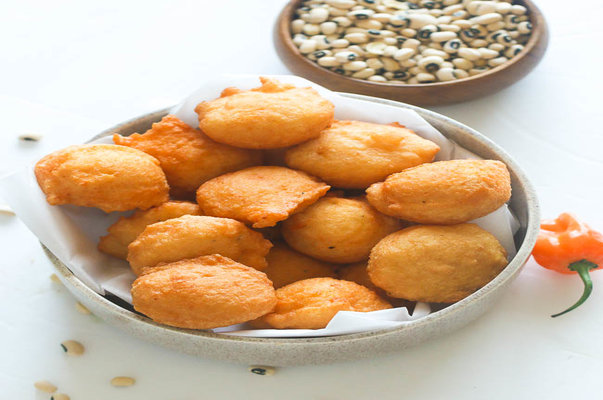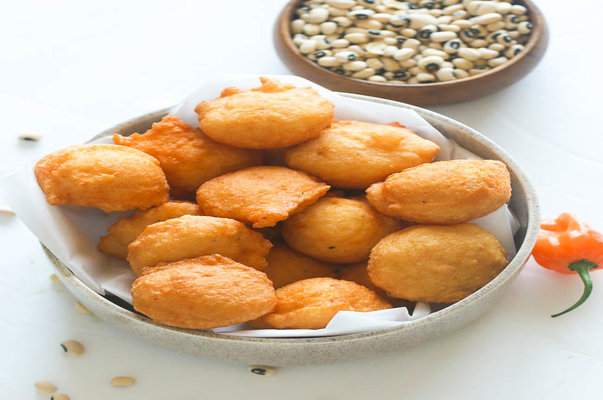 Coconut candy
This is a homemade confectionery that is crunchy and candy-like with lots of caramelising i.e water and sugar mix. Coconut candy is made from grated coconut fruit which is deep fried and left to cool down before application of the sugar and water mix. To get the caramelising level, the water is boiled to a point where sugar is put into it and stirred until it gives a syrupy consistency which is then used as a coating for the fried coconut.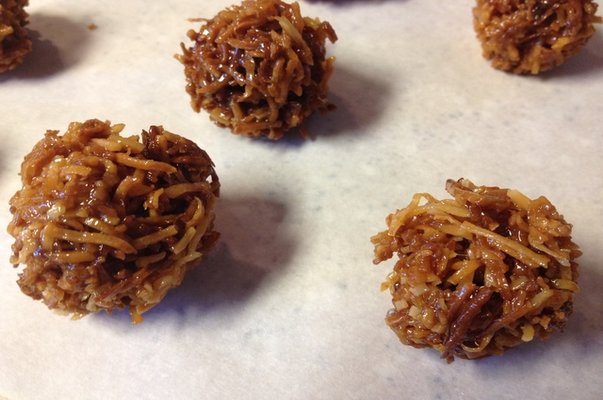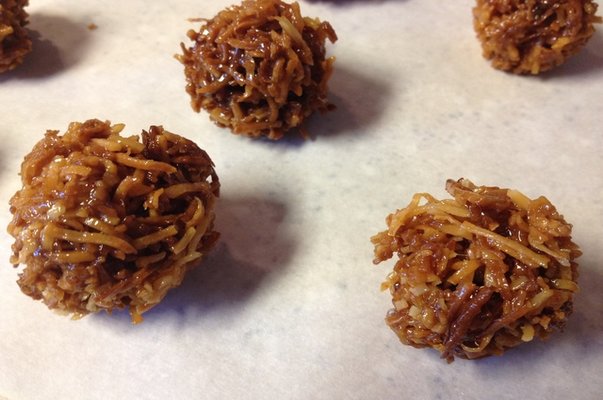 Nigerian Snack Food
Nuts
Nuts are nature's ways of giving humans sweetness in the form of the food eaten to the extent you don't need to aggregate the portions eaten. Nuts include Tiger nut, walnut, cashew nut, groundnuts, and others which are good for high level of selenium, good fat (polyunsaturated and monounsaturated fats), ellagic acid known as a cancer-fighting antioxidant and many more uses.
These nuts can be eaten alone or different nuts can be served together which gives a much-filling effect while doing so much for the body. Nigerians also like to eat groundnut with bread, garri, roasted plantain, cucumber, garden egg etc.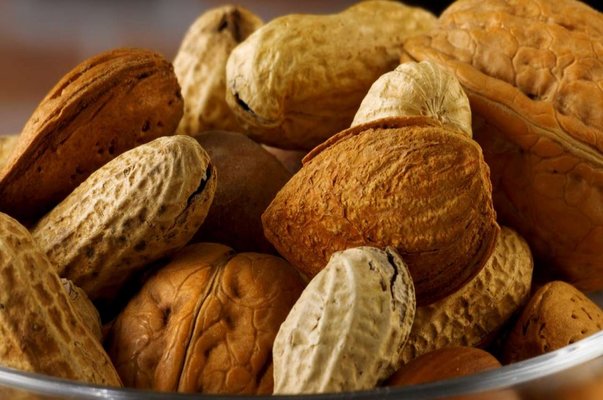 Okpa
This is a snack that is common amongst the Eastern dwellers of Nigeria which is made from ground Bambara nut with other ingredients. Bambara nut flour is industrially made by grinding the nut and skin till smooth while home made includes peeling off the skin before grinding then adding some stockfish, crayfish, pepper, palm oil, salt which is then wrapped in heatproof nylons or banana leaves and heated till its ready to eat. This delicacy is always available for sale as a street food early in the mornings and very rich in protein and fights stomach cancer, kwashiorkor, lowers cholesterol level and gives its eaters strong bones. To learn how to make these Nigerian snack food and other ones visit 9jafoodie.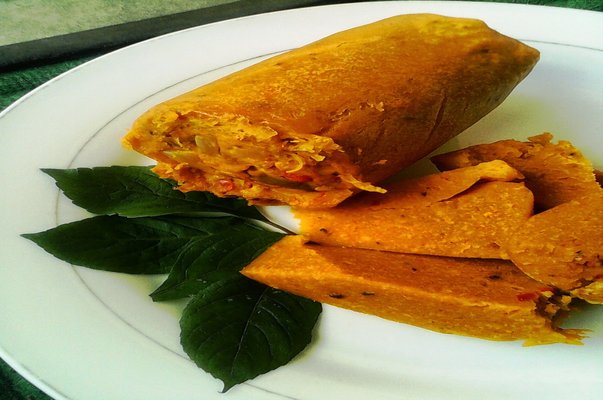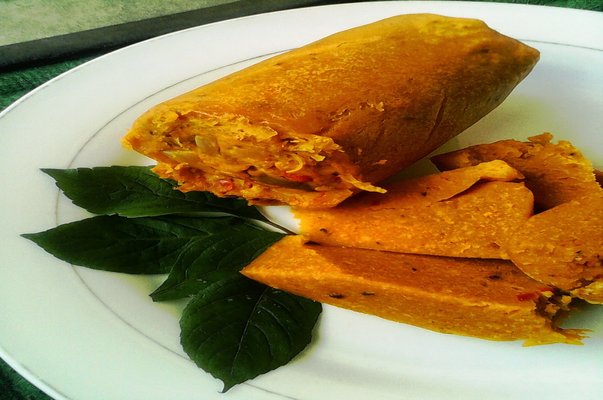 Roasted Plantain
Unripe plantain is mostly used by the street vendors when roasting them for sale which is rich in serotonin which improves blood flow, a good diet for weight loss, rich in vitamin A, B6, and C. The vendor's stall is usually set up under a huge umbrella by a street corner with a charcoal pot elevated on a stool before them and the various sizes of plantains upon it. The usually cream to yellow coloured plantain becomes golden brown after proper roasting and is ready to eat with either groundnut or other things you might like.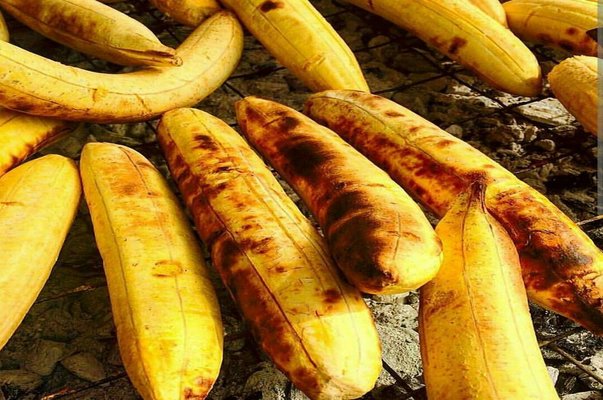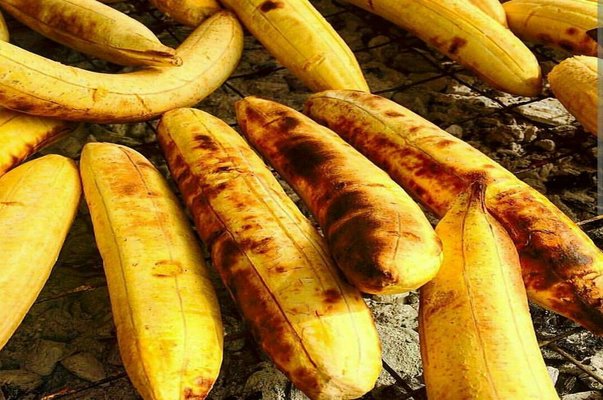 Which Nigerian snack food do you enjoy eating?
Others are reading…