Places to kayak in Lagos abound with Lagos being on an island. Kayaking is a word coined by the people who engage in this sport. It describes the act of paddling the kayak while in the water. A kayak is a watercraft with two propellers and a paddle for paddling the craft around in the water. This sport tests the strength of one's torso and arm. Their ability to navigate the waters is dependent on their skill and knowledge of the environment. There are single man kayaks and double sitter kayaks; choosing depends on your skill and knowledge of your environment.
Kayaking is a sport best done in groups for maximum enjoyment. The skilled and novice can both engage in this sport as an introduction is given on the Dos and Don'ts. It is best to be properly attired in loose-fitting clothes for comfort and long sleeves for the occasional bugs and sun. A pair of sunglasses and hat should be considered for protection. A pair of flipflops is a necessary evil for the wet nature of the sport. This sport is a good activity for relaxation and fun if you are interested in fun things to do in Lagos for the weekend
Vecta travels offers an up-to-date fare watch for flights to Lagos
Places to Kayak in Lagos,Nigeria
Lagos Lagoon with Nothing to do in Lagos
La Campagne Tropicana Beach Resort- Ikegune, Lagos
Inagbe Resort
Omu resort
Kayak at Lagos Lagoon with nothing to do in Lagos (NTDIL)
Their outfit is a group of go lucky fellows with a kindred spirit for adventures. They have taken it upon themselves to curate adventures for Lagos dwellers and visitors. Their aim is to stop the popular saying of "There is nothing to do in Lagos". They hire out kayaks at Lagos Lagoon for those interested in exploring the sport of paddling. Their rates vary from:
N6,000 per Kayak for 4 Hours;
N2,500 per hour for 2-3 hours; and
N3,000 For 1 hour.
La Campagne Tropicana Beach Resort
La Campagne Tropicana Beach resort is located at Ibeju Lekki local government area. It is on the coast of the Atlantic ocean while the Ikegun freshwater lake runs through the resort.  It is an African themed resort with their pool shaped like a human body, the SIMI chalet – an open bed for reclining by the sea and many more attractions. They have a kayak rental service that caters to both the skilled and beginner kayaker. The kayaking route throughout the ikegun lake which has several choice destinations to choose from. This route is full of lovely sights and sounds for the kayakers enjoyment and relaxation.
Inagbe Resort
Inagbe resort is located on Lagos Island. Their services vary from hotel services to beach parties and kayaking. The route for kayaking goes from Lagos lagoon to the Atlantic Ocean and back. This route gives the kayaker a wholesome view of Lagos city.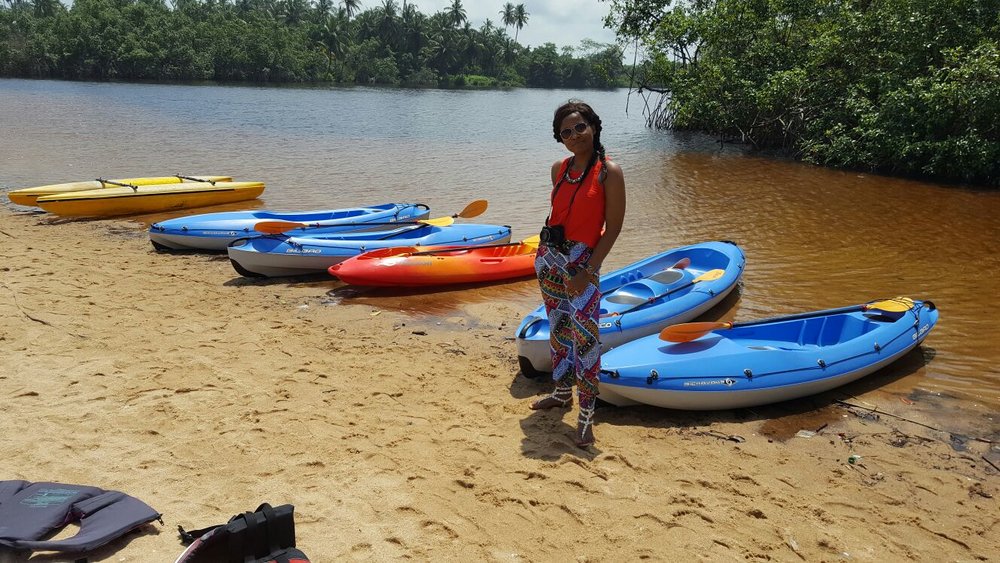 Places to Kayak in Lagos,Nigeria
Omu Resort
Omu resort is a nature-themed resort on 22 hectares of rainforest in the Ibeju-Lekki environs. Their omu creek is a wide expanse of clear water with various destinations for a  kayaking party. It offers the skilled and novice sportsman an experience to remember. The route through which the kayak passes is serene and soothing to the senses.
Other places to Kayak in Nigeria:
Kukwaba Lake behind National Stadium, Abuja
Unilorin Dam, Ilorin Kwara State
River Niger/ River Benue (at the confluence) Kogi state
Do you know of other kayaking sites in Lagos or Nigeria, do comment for enlightenment.
Others are reading…